Chocolate chip muffins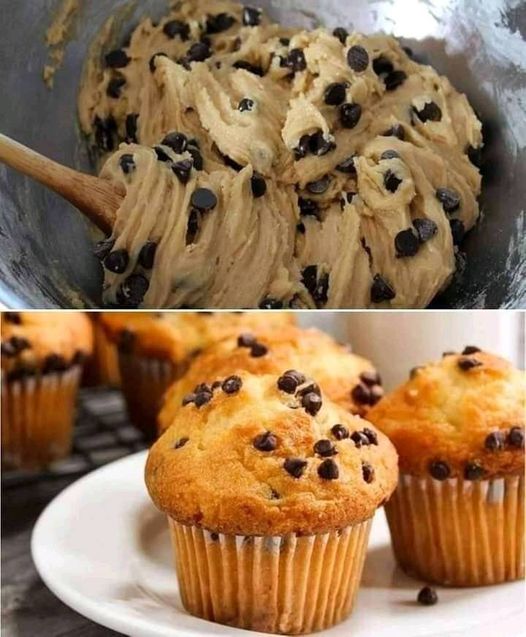 Chocolate chip muffins are our favorite way to justify dessert for breakfast. Muffins are a perfectly acceptable breakfast food, right? Sure, these are chock full of chocolate chips, but we can all overlook that and continue on eating these two at a time.
All kidding aside, muffins really do make the best breakfast and snack food for those super busy days. We like to make a double batch and keep one frozen so we always have some ready to go. Waking up late doesn't have to destroy your morning when you have an easy-to-grab breakfast you can take with you on the go. Trust us, the whole family will love these delicious and convenient chocolate chip muffins!
HOW DO YOU KEEP MUFFINS FROM GETTING SOGGY?
There are two great ways to keep your muffins from getting soggy. With either method, you'll need to first ensure that your muffins are completely cooled before storing in an airtight container. You do not want the muffins to have any residual heat.
The first option is to simply add a few saltine crackers into the airtight container that you store your muffins in. The crackers will absorb the excess moisture.
The second option is to lay a paper towel out onto the bottom of your storage container. Place your muffins in on top of the paper towel in a single layer, then place an additional paper towel on top. The paper towel will absorb the excess moisture.
CAN I ADD NUTS TO MY CHOCOLATE CHIP MUFFINS?
Yes, you can! When you add in the chocolate chips, you can also add in 1/2 cup of finely chopped nuts. Almonds, walnuts, or pecans will all work great in this recipe.
HOW DO YOU MAKE PERFECT DOMED MUFFIN TOPS?
They key to a perfectly domed muffin top is to blast the batter with heat when you first place it into the oven, and then let it finish baking in a slightly cooler oven.
This will cause the steam in the muffins to rapidly release, making the muffin puff up rapidly and create that perfect dome. 425 degrees Fahrenheit is a great temperature to start your muffins in. After about 7 minutes, reduce the heat in the oven to 350 degrees F.
Watch your muffins closely as they finish baking as ovens vary slightly so your cooking time may vary as well. Pull your muffins out as soon as they are golden brown on top.
Ingredients
½ cup butter softened
1 cup granulated sugar
2 large eggs
2 teaspoons baking powder
½ teaspoon salt
1 teaspoon vanilla extract
2 cups all-purpose flour
½ cup milk
1 cup semi-sweet chocolate chips
Directions
1. Line a muffin tin with paper liners. Lightly grease paper liners with nonstick cooking spray.
2. In a large mixing bowl, use a hand mixer to cream together butter and sugar, about two minutes.
3. Beat in eggs until combined. Add in the baking powder, salt, and vanilla and mix briefly.
4. Add in half of the flour, mix with a hand mixer until just combined, then add in the milk, stirring to combine.
5. Scrape the bottom and sides of the bowl and add in the remaining flour until just combined.
6. Add the chocolate chips to the batter and use a rubber spatula to gently fold them in.
7. Divide the batter up amongst the 12 muffins. Preheat oven to 425 degrees. Let the batter rest while the oven preheats.
8. Bake in the preheated oven for 20 to 25 minutes, until a toothpick inserted into the center, comes out clean.
9. Reduce the heat in the oven to 350 degrees after 7 minutes. Watch the muffins closely as cooking times may vary depending on your oven.
10. Let muffins cool for 5 minutes in the pan before removing them and transferring to a wire rack to cool completely.