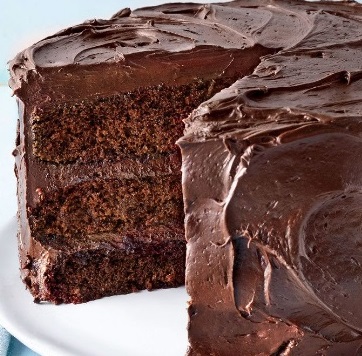 I am fussy about cakes, I'll admit it! When it comes to chocolate cake, standards are even higher. I think it is because chocolate cake can end up dry and nobody likes dry cake! Moist cake with a tender crumb is the goal and after I finally convinced myself to try making a chocolate cake with mayonnaise, I realized that this was the key.
As I was preparing to make the cake, I was talking to myself (I do this often) about why on earth you would put mayonnaise in a cake. My husband walked in (he teases me about talking to myself but is accustomed to it now) and told me that using mayonnaise in cake recipes began during the Great Depression when certain food items were rationed or unavailable – since mayonnaise contains eggs, oil, and vinegar, it covers several ingredients that are crucial for a moist and tender cake. That is really an interesting tidbit of history, but why did he know this off the top of his head!
The moist brownie/fudge like texture is perfect for any day and it will not last long.
Enjoy!
Ingredients
2 cups flour
1 ½ cups sugar
2 tsp. baking powder
1½ tsp. baking soda
1 tsp. salt
1 cup buttermilk
2 tsp. vanilla extract
¾ cup unsweetened cocoa powder – high quality is preferred
1 cup creamy salad dressing (such as) Miracle Whip or full-fat mayonnaise
1 cup lukewarm water (or warm coffee)
Directions
Preheat oven to 350°F.
Grease and flour a 9×13 inch baking dish or 12 cup Bundt cake pan.
Combine all the dry ingredients in a large bowl.
In another bowl, combine all wet ingredients.
Slowly pour the wet mixture into the dry mixture – only whisk until combined. Do not overmix.
Pour into prepared baking dish.
Bake in preheated oven for about 30 minutes or until a toothpick inserted in the center comes out clean. (A Bundt cake will take a bit longer.)
Allow to cool completely. If you used a Bundt pan, let cake cool for 10-15 minutes and turn out onto cooling rack.